Employment Returns to Pre-Pandemic Levels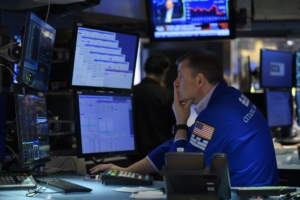 Article originally posted on CoStar on August 5, 2022
A trader works on the floor of the New York Stock Exchange at the opening bell on Friday. (Angela Weiss/AFP via Getty Images)
The economy added 528,000 jobs in July, according to the Labor Department on Friday, the largest monthly gain since February and more than twice the number expected by economists. Employment has now returned to its pre-pandemic levels, with more than 22 million jobs added since May 2021.
The gains were broad-based across industries, with the most jobs being added in the leisure and hospitality industries, the two sectors most impacted by the pandemic. Restaurants and bars added 74,100 jobs in July, and entertainment added 21,600. As a whole, the services portion of the economy is recovering but is still more than 1 million workers short of its pre-pandemic levels.
Higher-wage jobs were also added in the month, including professional and technical services which added 47,300 positions, manufacturing adding 21,000 jobs and doctors' and dentists' offices adding 47,300.
The unemployment rate ticked lower to 3.5%, the lowest rate since February 2020. That low rate has been driven in some part by the lower labor participation rate, which in July stood at 62.1% compared to 63.4% prior to the pandemic. COVID-related fears, child-care responsibilities and an aging workforce are all to blame for the shortfall in participation. In July, almost 300,000 men left the labor force, while more than 200,000 women entered, according to the household survey of the release.
The blockbuster report surprised Wall Street and immediately saw a sell-off in equities as analysts now predict a more aggressive Federal Reserve response to evidence that the labor market is still strong despite attempts to cool the economy to rein in decades-high inflation.
The Fed has raised its policy rate four times this year, by 2.25 percentage points since March, and Fed officials have suggested that another 75-basis-point increase could be on the table for its September meeting. However, analysts were broadly expecting a smaller increase after signs of an economic slowdown began appearing in July. A jobs report for June also came as a surprise.
Earlier economic reports indicated that some slack was materializing. Job openings at the end of June were 10.7 million, a steep decline from 11.3 million at the end of May, while initial jobless claims have been drifting higher for five months, according to a separate release.
The July jobs report showed that average hourly earnings rose by 5.2% over the 12 months ending in July, compared to the most recently reported inflation rate of 9.1%.